Remember at the end of 2019 when you read all of the marketing predictions for 2020? It's quite likely that things haven't turned out exactly as you expected. Yet, despite the challenging circumstances for marketing teams around the world, there has still been some good stuff that's worth shouting about.
This year has proved more than ever that content marketing works best when it solves a problem for a user, or it gives them hope and direction. These are all things we need right now in bucketloads.
The only downside is that many marketing budgets have been slashed or reallocated in 2020 (dare we say, due to the "unprecedented circumstances"), meaning there's been less 'big money' content pieces this year. But some have made it through the design and build stages, so we've hunted them down. And we've also discovered some pieces of interactive content that have aged pretty well. Probably better than your New Year's resolutions anyway...
So - what are the most inspiring pieces of interactive content from this rollercoaster-of-a-year?
Under Lucky Stars Stargazing Tour
https://www.underluckystars.com/stargazing-tour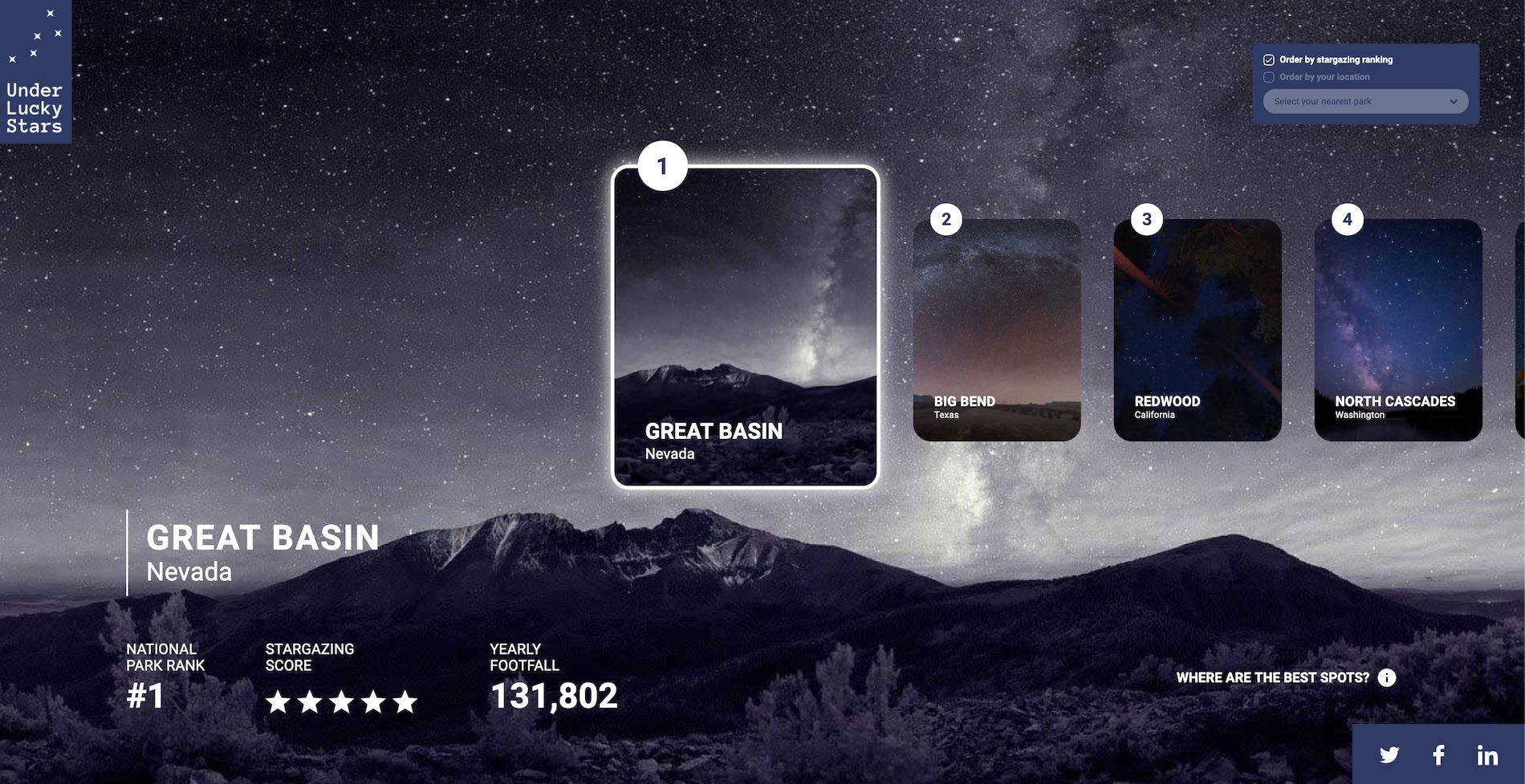 International travel may seem like a wild concept right now, but domestic holidays are still on the cards. For residents in the USA, this may involve a stay in a National Park due to the availability of fresh air and space. With the help of the Under Lucky Stars interactive asset, users can find their closest parks, and which ones are best for stargazing.
With 62 locations listed, it would have been an unwieldy blog post, so the format fits for this highly visual content. Aside from fawning over the beautiful background imagery, users can also see the yearly footfall for each park, which could offer some inspiration for quieter locations to visit. Helpful for anyone who is keen to keep their distance from everyone outside of their household bubble.
Why is it inspiring?
At a time when air travel is less favourable with much of the population, having clear options closer to home can be helpful for those who feel like they need to get away for a bit. The way the content is designed makes the user want to keep scrolling through all of the parks to see the night sky imagery.
Red Bull Wingfinder
Although Wingfinder was first launched in 2016, it has had a resurgence of interest in 2020. Like many things this year, this is mostly due to Covid-19 and the effect that the pandemic has had on the global job market. Wingfinder is a free personality assessment which discovers your professional strengths, and highlights areas you have a natural aptitude for.
The assessment takes around 35 minutes to complete, which is why this piece of interactive content can boast good levels of prolonged engagement. Unlike many internet quizzes, it is based in psychological research, developed by Red Bull and professors from University College London and Columbia University New York.
Why is it inspiring?
Red Bull's Wingfinder may help users to take a new direction in their professional lives, perhaps after being on extended furlough or being made redundant. The assessment is available in a handful of languages, making it more accessible to a wider audience.
NASA Global Ice Viewer
https://climate.nasa.gov/interactives/global-ice-viewer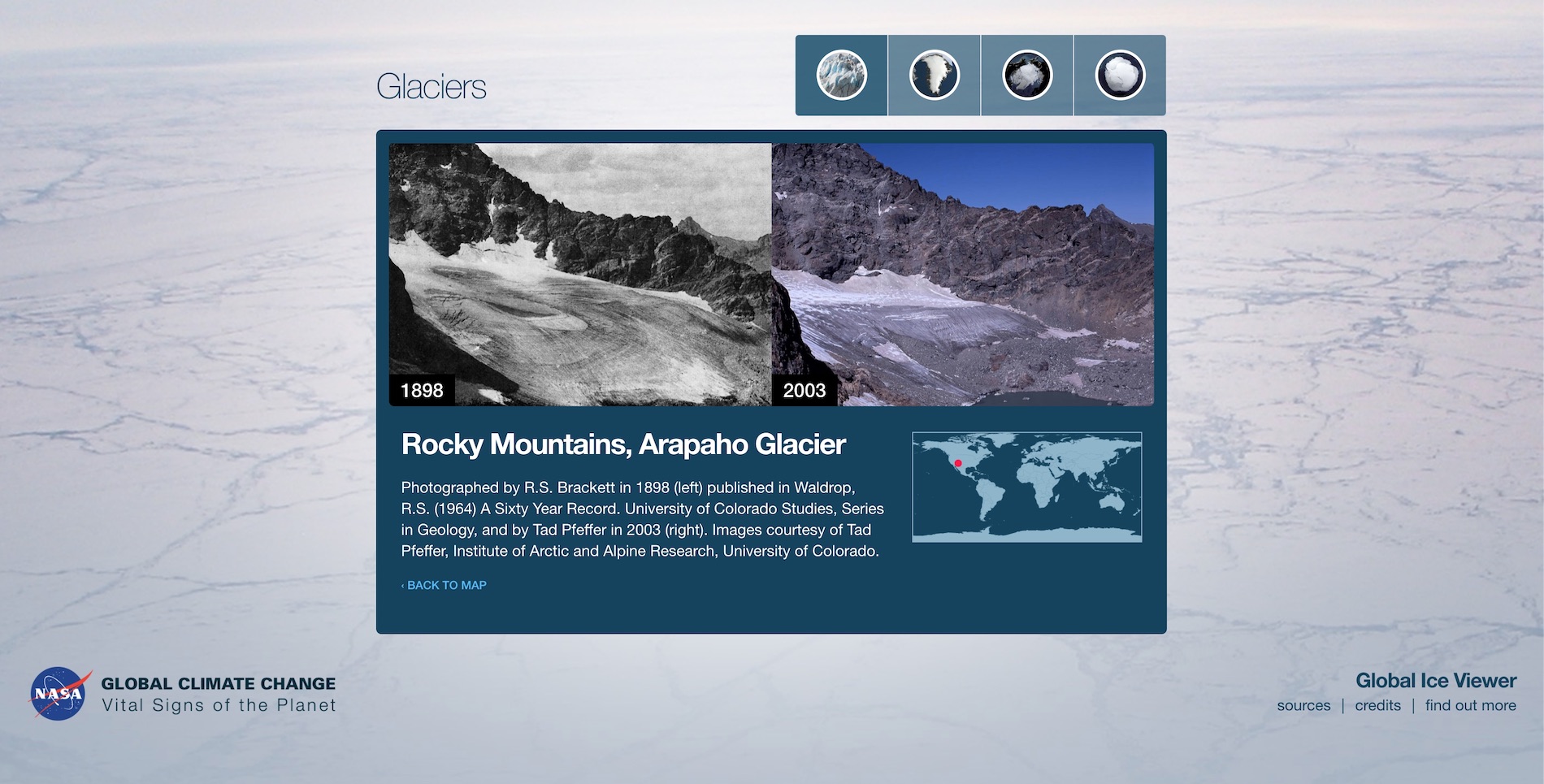 2020 has put other stories at the forefront of the news agenda (hint: pandemic related), but there are still other major world issues that are rolling on in the background, including climate change. NASA has an interactive asset which contributes to this conversation, and it makes for fairly shocking viewing.
Using the Global Ice Viewer interactive, users can compare glaciers, ice coverage, the Arctic and Antarctica over time. This involves a simple button scrolling function, comparing landscapes as the ice recedes in multiple locations.
Why is it inspiring?
It is one thing to hear about an issue, and another to see it. And there is no escaping the visual impact of this interactive asset. It's hard to look at the change to ice coverage without thinking about what will happen in the future due to climate change. The real inspiration here is a personal call to action, and thinking about individual impact on the changing face of the planet.
In conclusion...
The interactive content of 2020? It is inspiring because it speaks to us about the issues that we face, the things we miss, and what we need in order to feel safe or secure. These examples of content raise questions about our future as individuals, and as a wider population.
We picked these examples as they provide everything from warnings through to opportunities. About what our lives could be like, or end up like. Where we can go and what we can do to reconnect with ourselves and our planet. So now it's over to us to write the rest of the story and see what 2021 brings.